N  A  N  C  Y   T  H  A  Y  E  R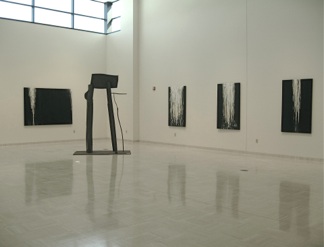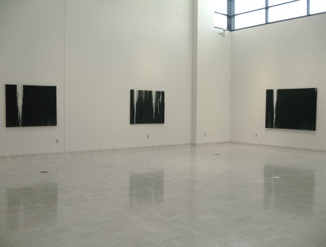 "While the visual content refers to and suggests forms of nature, they are not meant to be photographic or site-specific. My intention is always to communicate the spiritual essence and impact of the environment. In one series of paintings, I focused on sacred grottos, caves, and stalactites to express a private place for contemplation and a sense of solitude deep within what has been formed by nature over long periods of time."
The work of Nancy Thayer is included in numerous museum collections, including the Detroit Institute of Arts; Muzeum Papiernictwa in Duszniki Zdroj, Poland; Foundation MINT ALAPITVANY in Budapest, Hungary; and in over 100 private and corporate collections throughout Europe and the U.S.
She was commissioned to create nine major sculptural paintings for the city of Detroit and three for major health care facilities in Michigan. Her work has been shown extensively throughout the U.S and in Italy, Germany, Hungary, Poland, The Netherlands, and Korea.
She served on the faculty of the University of Michigan, School of Art & Design, Ann Arbor for over 20 years. She also served on the Executive Board of Directors of InterFaith Leadership Council of Metropolitan Detroit, an organization whose purpose is to bring leaders of many faith communities together in actively promoting peace, respect, and mutual understanding.
As a member of the Board of Directors of Interfaith Partners of the Michigan Roundtable for Diversity and Inclusion, in 2008, she organized and co-curated a museum exhibition—Reflections of the Spirit. The exhibition included works by artists of diverse ethnicities, nationalities, religions, racial backgrounds, and traditions. As a result, many hundreds of faith leaders, students, artists, and members of various community organizations came together to hear the artists speak about their work from their own spiritual perspectives and to see the visual interpretations.
In 2009, she organized and directed two symposiums focusing on forgiveness from a faith-based perspective for the University of Michigan, School of Art & Design. Leaders from the Christian, Jewish, Muslim, and Hindu communities participated.
In a catalogue essay for her exhibition at the Marshall Fredericks Museum, Susan Bandes, then director of the Kresge Art Museum, wrote: "One is reminded of Mark Rothko's chapel at the De Menil collection in Houston, a room of quiet, large abstract canvases whose cumulative effect is an enveloping atmosphere for meditation. There, the room is hushed, and the glow of light emanating from the paintings that surround the viewer becomes expansive. So too with Thayer's paintings. Her grottoes are neither narrative nor site-specific. Rather they are the total opposite: boundless, open-ended, and uncharted in their suggestion of physical phenomena. The discovery of the richness of their space is a subjective experience. Her intention is to create an opportunity for the viewer to listen to his or her own thoughts. They are also about spirituality without being literal or referencing humans."
"Texture, edges, and titles are significant. Tactility in her paint harks back to her work in other mediums, clay in graduate school at Michigan State University, and paper making that occupied her for over twenty years. The smaller grotto drawings are on tar paper. Several contain small bits of her handmade paper recycled from another project. She describes herself as a messy painter, but it's a carefully controlled technical exploration and thorough immersion in and mastery of the mediums she uses. As she points out, edges - not just the centers of the paintings - are visually important. Colors reveal themselves at the lower edges of several of the paintings and thick ribbons of paint curl around the edges of others. Titles -- "Silent Grotto" and "Stalactite"-- are clues to understanding the origins."
"There are echoes of J.M.W. Turner whose 19th century churning seas of color were some of the earliest painted abstractions but always based in nature. Barnett Newman's writings and his appreciation of non-objective painting also informs Thayer's sensibilities."
Most recently her paintings created in studios in New Mexico, Colorado, and Detroit since 2011 represent the impact of living and working in the Sangre de Cristo mountains. "There is a unique spiritual identity or presence in each of the many locations I've visited – pueblos, reservations, monuments, parks, towns, and villages. The contrast between these sacred sites and the Detroit communities where I've lived and worked for decades amplified a deep appreciation for the land and people who occupy both."